ECB's Draghi raises prospect of rate cuts
Mario Draghi has raised expectations that the European Central Bank will pump more stimulus into the eurozone economy.
Speaking in Sintra at the ECB's forum on central banking, Draghi said the door was still open to rate cuts and/or further bond purchases:



Further cuts in policy interest rates and mitigating measures to contain any side effects remain part of our tools. And the APP (asset purchase program) still has considerable headroom.

If the crisis has shown anything, it is that we will use all the flexibility within our mandate to fulfil our mandate — and we will do so again to answer any challenges to price stability in the future.
Read his full speech here.
European markets are mixed this morning.
Mining stocks are providing a modest to the FTSE 100, which is up 16 points or 0.2% at 7,374.
Elsewhere:
Germany's DAX: -0.7% at 12,006
France's CAC: +0.1% at 5,395
Italy's FTSE MIB: +0.6% at 20,740
Spain's IBEX: -0.6% at 9,079
Heathrow's third runway plans: details revealed
Heathrow has published details of its controversial plans for a third runway, which include lowering part of the M25 so that the runway can cross it, rerouting rivers and relocating huge car parks.
The publication marks the beginning of a 12-week public consultation on the plans, which are opposed by climate campaigners who warn of the damaging impact that 700 extra planes will have when the runway is due to open in 2026.
Read our full story here:
One major opponent to the Heathrow expansion plans is Boris Johnson, the former London mayor and favourite to be the UK's next prime minister.
On his return to parliament in 2015, he vowed that if it came to it, he would lie "in front of those bulldozers and stop the building, stop the construction of that third runway".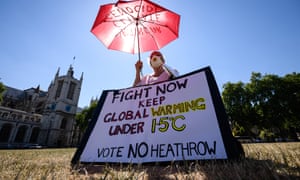 On day two of the Paris air show, Bloomberg gives a handy summary of some of the key themes:
Here is how the European car industry has fared in recent months: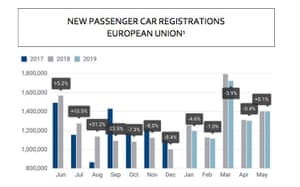 The VW Group continues to have the largest share of the new car sales market in Europe, at just under 25% in May.
It is followed by the PSA Group with 17% and Renault with 11%.
European car sales rise in May boosted by rising demand in Germany
Good morning, and welcome to our rolling coverage of the world economy, the financial markets, the eurozone and business.
New car sales in Europe rose 0.1% in May to 1.4m, ending a run of eight successive months of decline, according to the European Automobile Manufacturers Association.
It was hardly a major leap in demand but will be encouraging nonetheless for an industry under serious pressure from a tough consumer backdrop, tighter emissions rules, and the challenges posed by the shift to electric cars and driverless technology.
A breakdown of the figures shows a mixed picture for western Europe's five biggest markets, with sales up in Germany (+9.1%) and France (+1.2%) but down in Spain (-7.3%), the UK (-4.6%) and Italy (-1.2%).
The modest rise in May was not enough to halt the trend of falling sales in the year to date, with new car sales in the EU down 2.1% between January and May, compared with the same period in 2018. Germany is the only one of the five big EU markets to post a rise over the period.
Also coming up…
Facebook is expected to say it is launching its own cryptocurrency, called Libra. It will mark a major shift in strategy for the social network site, and markets and investors will be closely watching as Mark Zuckerberg reveals the details of his latest move. We will bring you the news as it breaks.
Heathrow has published the details of its planned (and hugely controversial) third runway as it begins the latest consultation stage. More on that soon.
In the diary:
10am BST: Eurozone inflation data for May
10am BST: The Zew survey for June will give the latest snapshot of economic sentiment in Germany
1.30pm BST: US housing starts data for May
Updated